Sydney Theatre Company's production of 'RBG: Of Many, One' A new play by Suzie Miller
Autumn 2023
Sydney Theatre Company's production of 'RBG: Of Many, One' A new play by Suzie Miller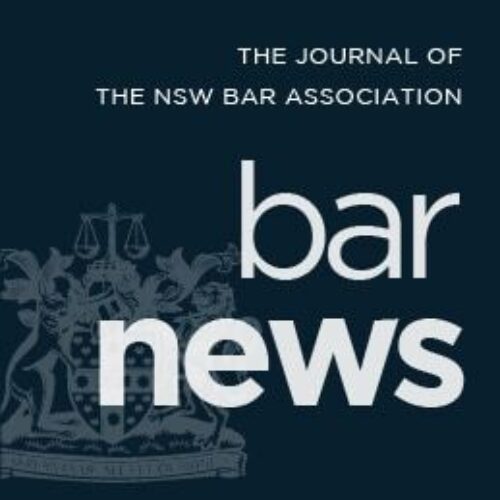 'RBG: Of Many, One', written by Suzie Miller and directed by Priscilla Jackman ran at the Sydney Theatre Company from 29 October to 23 December 2022 and starred Heather Mitchell as Justice Ruth Bader Ginsburg.
Sydney Theatre Company's production of 'RBG: Of Many, One' A new play by Suzie Miller
It was with a mix of excitement and trepidation that in early November last year I headed into the matinee of the Sydney Theatre Company's production of 'RBG: Of Many, One', a new play by Suzie Miller. The excitement could be easily explained: this was the STC play I had most been looking forward to all year, not least because I had found Miller's 2019 play Prima Facie tremendously compelling. I was looking forward to seeing what Suzie Miller would do in telling the life story of a legal icon on the stage.
But why the trepidation? I had niggling worries that I might be hoping for too much: was it a bit too soon after the titular subject's passing for a biographical play to say something new about her life? How would the work land with an Australian audience?
However, from the early scenes it was obvious that my trepidation was unwarranted and my excitement was justified. In 'RBG: Of Many, One' Suzie Miller again turns to the device of a one-woman play used so effectively in Prima Facie, this time to tell the life story of Unites States' Supreme Court Associate Justice Ruth Bader Ginsburg, formidable legal advocate and jurist, and Clinton appointee who sat on the Supreme Court from 1993 until September 2020. Along the journey of her impressive career Justice Ginsburg became legal, feminist (and perhaps a little more surprising) pop culture icon, 'the Notorious RBG,' so well-known beyond Washington DC, and the United States, that it did not seem particularly odd to find oneself seeing such a play by an Australian playwright in its world premiering run in a leading Sydney theatre.
Miller's script deftly takes the audience through the key chapters of Justice Ginsburg's life (although without conforming to a linear chronology): her Brooklyn childhood; her lifelong love and partnership with Marty Ginsburg; the challenges experienced as a female law graduate; her work as an advocate on leading sex discrimination cases; the tortious Supreme Court appointment process; and highs and lows of her time on the Court.
The voice of the play felt consistent with what I had seen and read of Justice Ginsburg, no doubt reflecting Miller's careful research. Capturing a believable and authentic voice is important as the play is at its strongest, and most interesting, when it depicts Justice Ginsburg herself attempting to grapple with and explain two controversial events late in her life: her outspoken comments criticising Donald Trump in the lead-up to the 2016 election; and her decision not to retire during the term of a Democratic President. The latter was particularly poignant in late 2022, with many still reeling from the Supreme Court decision in Dobbs v Jackson Women's Health Organization overturning Roe v Wade. It was in these scenes that the play moved beyond biography and admiration to explore ideas of legacy, ego, opportunity, and the power and constraints of the judicial role.
Heather Mitchell (which STC regulars may know from her matriarch roles in the recent stage adaptation of Harp in the South, and Playing Beattie Bow) gave a fabulous performance as Justice Ginsburg, commanding the stage for the 90 minutes in what must be an exhausting role that, like all monologues, requires impeccable timing to make the drama unfold. Mitchell was able to convey the forceful intellectual presence that Bader Ginsburg had been known for throughout her life and inhabit the physicality of the character, right through to the now famous personal training sessions of the barely five foot octogenarian judge.
Director Priscilla Jackman made clever use of the corner stage in Wharf One, a venue that was the right size for Mitchell to fill the stage, but also to allow the director to use small props and movement around a minimalist set to signal shifts between eras. Occasionally some of the staging and lighting details felt a little trite, but the overall impact was effective.
Having completely sold out during its first run in late 2022, 'RBG: Of May, One' is ripe for a re-run in Sydney and a tour to other Australian capitals. No doubt there are high hopes it will also have the chance to run overseas. If you missed it in 2022, it will be well worth getting excited about any future opportunities to catch it if they come up.
Reviewed by Anna Garsia