On 28 March 2022, in a ceremonial sitting in the Banco Court, Ms Anna Mitchelmore SC was sworn in as a judge of the Supreme Court of NSW and as a judge of appeal. The Chief Justice of the NSW Supreme Court congratulated her Honour on her appointment to the court and noted that her Honour has been a highly respected member of the bar for many years and a leader in all senses of the word, which was sure to continue during her time on the bench.
The ceremony was attended by Her Excellency the Honourable Margaret Beazley AC QC; her Honour's husband, Dr Tung Vu; her parents, Dean and Joanne; her siblings, Kylie, Damien and Scott; and her Honour's nieces and nephews.
Her Honour grew up in Huntley's Point and attended Santa Maria Del Monte Primary School where the school library was a favourite haunt. She attended high school at Loreto Kirribilli, where she was a keen student of Italian, and of Latin which she continued studying while undertaking a Bachelor of Arts and Bachelor of Laws at the University of Sydney. Her Honour continues a family legacy in the law, with her grandfather and father both solicitors, the latter of whom moved her Honour's admission in 2000.
Her Honour commenced her practice at Mallesons Stephen Jaques (now King & Wood Mallesons) as a summer clerk. In 2001, her Honour was an associate to the Honourable Justice Michael McHugh AC QC in the High Court of Australia, who was present at the swearing-in. In reflecting on her Honour's time as an associate, Justice McHugh noted that '[Her Honour]'s work was of such high quality that I recognised from the beginning that she was an outstanding talent and would become one of the leaders of our profession.'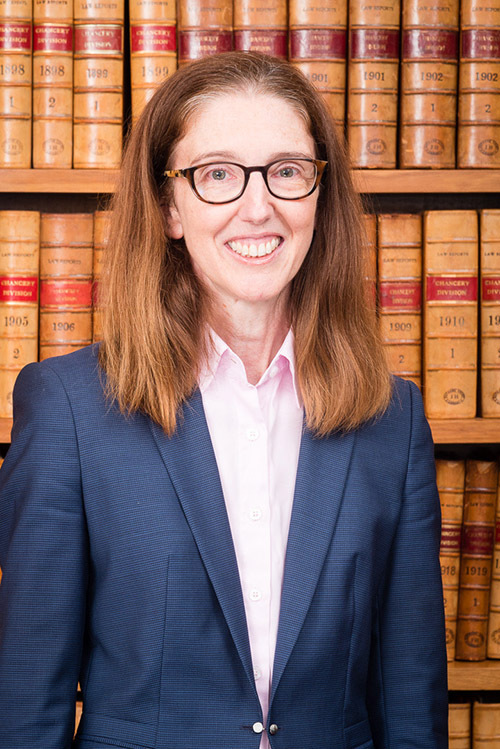 Her Honour worked as an assistant adviser to then federal attorney-general the Honourable Daryl Williams AM QC MP, before practising at Gilbert + Tobin in dispute resolution. In 2004, her Honour took up the position of Counsel Assisting the Solicitor-General and Crown Advocate of NSW. She commenced at the private bar in 2006.
Her Honour had chambers on the Sixth Floor of Wentworth and Selborne Chambers from where she had a wide practice for some sixteen years, mainly in administrative, constitutional, criminal law, local government & environmental cases, migration law and native title. In September 2021, her Honour was appointed as a commissioner of the Law Reform Commission of NSW.
Her Honour served on the Bar Council from 2015 until her appointment, culminating in election as junior vice president. Her Honour served on numerous committees including the selection committee for the Bar Association's Katrina Dawson Award.
Her Honour was recognised for her kindness and genuine interest in others' lives, and, as a practitioner, for her honesty, transparency and respect for the courts and legal institutions. The attorney general Mark Speakman SC MP praised her Honour's dedication, intellectual curiosity, devotion to all manner of peoples and generosity with her time, especially as a mentor to young women. Ms van der Plaat, President of the Law Society, noted that her Honour's mentorship was described as guaranteeing a successful start at the bar.
The attorney general referenced her Honour's interest in the classics with a quote: Ars est celare Artem – true art conceals the means by which it is achieved – befitting the calm and quiet nature which belies her Honour's great expertise and skill as a legal practitioner.
In her Honour's reply, referring to the final words of the Proclamation – 'give your attendance and be heard' – her Honour stated that it was a privilege to be appointed as a judge in a system of law that recognises, values and protects the impartiality and independence of the judiciary and the application of procedural fairness.
Her Honour attributed her success to her family and her husband, thanking them for their collective support, love, and good humour. Her Honour also expressed her gratitude and good fortune for her time as associate to Justice McHugh. Her Honour thanked those who had given her opportunities at the bar, in particular her tutors, Stephen Lloyd SC, who had provided much guidance and advice over many years, and the Honourable Justice Leeming, and all of her friends and colleagues.
Her Honour also highlighted the work of her instructing solicitors, many of whom were instructed by or who worked directly in government departments or independent agencies. Her Honour observed that working for such clients was immensely rewarding.
Her Honour's hard work, sacrifice, and dedication to the law and those around her will be of great benefit and lasting value to the judiciary and the people of New South Wales. BN