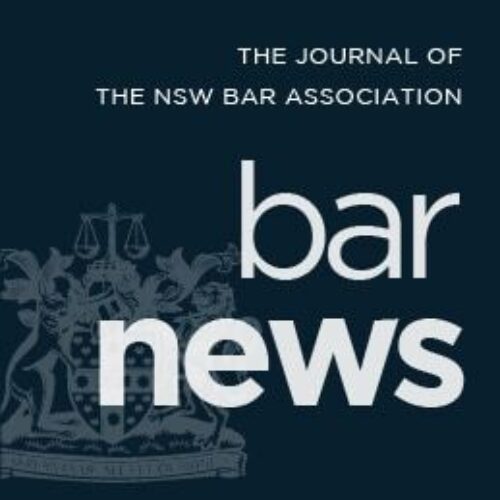 On 17 November 2022 the New South Wales Bar Association and the Women Barristers Forum held a celebration of life in memory of Janet Viola Coombs AM at the NSW Bar Association Common Room.
Janet came to the Sydney Bar in March 1959 and for some time was the only female barrister practising. She practised until her retirement in 1998 and during these 40 years was instrumental in driving a transformation of the culture and practices at the Sydney Bar. Janet's sheer force of magnanimity, kindness and commitment to equality was demonstrated by overt acts such as being involved in the formation of the Women Lawyers Association of New South Wales, creation of rooms in chambers for new female barristers at the Sydney Bar without fees for short periods, changes to the Bar and Bench Dinner and a practice of sharing rooms. Janet also made a mark by less public acts such as refusing to accept briefs in matrimonial law, chaperoning women to lunches in the Bar Association lunch room and questioning the appropriateness of certain 'art' (a painting of a naked woman) hanging in the Bar Association conference room. The guest speaker was the first female judge of the High Court of Australia, the Honourable Mary Gaudron KC who gave an unforgettable speech without a single note. Janet's niece Sophie spoke about the indelible mark Janet made on her life and Larissa Andelman, NSW Bar and former President of New South Wales Women Lawyers spoke about Janet's contribution to changing attitudes in the legal profession.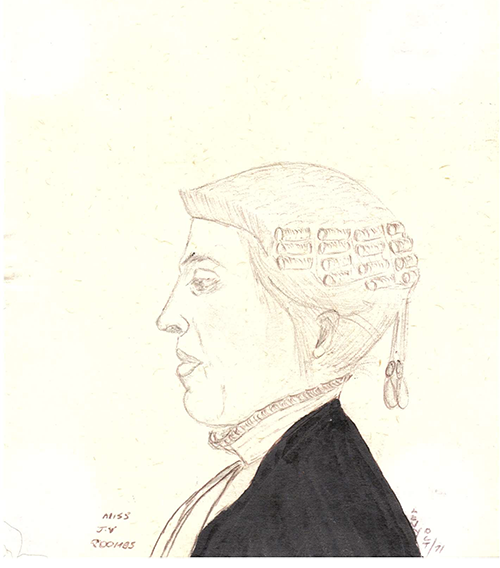 The evening was officiated by Naomi Sharp SC, the President of Women Barristers Forum. Many members of Janet's family and friends attended the evening as well as her former colleagues, members of the judiciary and those to whom she was a mentor. Mary Gaudron spoke of Janet's belief in equality as a matter of faith and as a non-negotiable ideal despite herself experiencing less than equal treatment.
Mary described Janet as a generous, tolerant, non-judgemental, practical, pragmatic, worldly woman, as devoted to the good things of life as anyone. Janet was also a person of profound faith, a devout Catholic. Mary talked about what it was like for women at the Bar in those times and how courageous Janet was in coming to the Bar in the 1950s. One Chief Justice of that era used to describe woman barristers as mother nature's only mistake.
Larissa Andelman recounted that Janet's advocacy always involved humour and inimitable style. When Janet first came to the Bar she was surprised that she was not invited to attend the Bar and Bench dinner and it took two years before women were permitted to attend. In an interview given to Women Barristers Forum she explained that in her second year she wrote to the President of the NSW Bar Association objecting to being invited to come to the dinner but also being told not to come because the University Club did not admit women.
At the Women Lawyers Association dinner, Janet said to the President of the Bar Association, Nigel Bowen "We are so glad to have you with us, Mr Bowen". He replied "The (Bar Association) Dinner is at the Wentworth this year"1. After that Janet attended every year dinner. Janet and other members of the executive of the Women Lawyers were able to secure four rooms to make available for women, as women had difficulty getting chambers. This was a tremendous achievement and was of immediate practical benefit to women barristers. Frederick Jordan Chambers made a room available for any woman coming to the Bar. Janet and Jenny Blackman were designated as trustees of the Women Lawyers. Janet approached Mary when she heard that she intended to go to the bar. Janet recounted the story in the interview: "I hear you're coming to the Bar, Mary". She replied, "Yes". So I said "Should you have any difficulty getting chambers, you can always come and share with me". She replied, "I'm sure I can do better than THAT". I replied "Well Mary, I certainly hope that that is the case, but should that not be the case, my offer will remain open" and walked off.
However, Mary's applications to purchase chambers were unsuccessful so the next day she came knocking at my door and we arranged for her to share with me. We never mentioned the earlier conversation until many years later when she said to me "How did you know I wouldn't get those chambers?" I said, "It was the TALK of Phillip Street".2 Janet was determined that women would feel welcome at the Bar. She sought out every female new admittee and took them to lunch at the Bar common room which she had found hostile when she attended as a new barrister.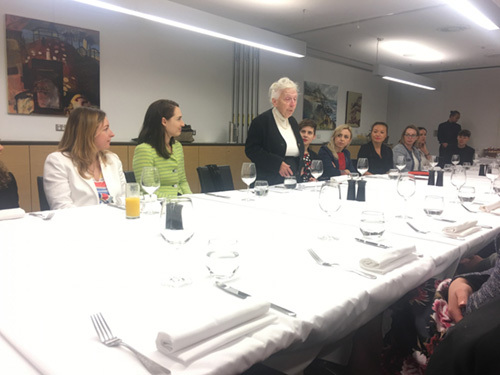 As the number of women grew, the lunch moved into something altogether more organised. It is now a biannual event hosted by the Women Lawyers Association and the Women Barristers Forum to welcome new women to the bar. All are welcome to attend. It's held in Janet's honour and she will be there at all future lunches, not just in spirit, not by hologram either, but by video. It is a wonderful video, with an introduction by Mary.
Janet's lunch for female readers continues to gain acclaim within the broader legal profession. It is a powerful demonstration of women welcoming and supporting other women in a collegiate and supportive way. Janet absolutely adored the opportunity to welcome women to the Bar and we are grateful that some of her spirit has been captured for future generations. BN
ENDNOTES
1 https://nswbar.asn.au/the-bar-association/bar-history/pioneeringwomen#/view/9janetcoombs.

2 ibid.