Guilty Pigs The Weird & Wonderful History of Animal Law
By Katy Barnett & Jeremy Gans (La Trobe, 2022)
In 1386, the Tribunal of Falaise, in France, sentenced a criminal defendant to death for murdering a child. Before her execution, the defendant was dressed in new clothes, and to reflect the injuries she had inflicted on the child, her head and legs were wounded. She was then hanged before a crowd.
As the authors of Guilty Pigs observe, what is remarkable about this trial is that the defendant was a female pig, tried and found guilty as if she were human. Thus begins Chapter 3 of this fascinating account of the relationship between humans and animals in the law.
The book begins with the life-saving decision of the High Court of Australia in Isbester v Knox City Council, which provides the context for a general description of the way in which the relationship between humans and animals gives rise to issues of private law, criminal law, and public law. This chapter sets the tone of the book: the way in which animal law can be a platform for understanding human law from different perspectives.
The book is thereafter divided into chapters describing the six core dimensions of animals in the law: owning, controlling, blaming, understanding, harming and protecting animals. The chapters address such questions as: who owns the cygnets where the owners of the cob and the pen are different (see the Case of Swans, 1592); are landowners who spray pesticides liable for the death of foraging bees from neighbouring lands (see Lenk v Spezia, 1949; cf. Bennett v Larsen Co., 1984); do cats make useful spies (see the CIA's Acoustic Kitty Project); who owns the copyright in selfies taken by a crested black macaque (see Naruto v Slater, 2018)? The stories recounted in the book are each valuable for their quirkiness, mundanity, darkness, or illustration of legal or philosophical concerns.
This is not, and does not pretend to be, a comprehensive analysis of the law relating to animals. It is rather an exploration of animals in the law: the relationship between animals and humans and the manner in which the law responds to the various disputes and controversies to which those relationships give rise. It is explanatory, rather than prescriptive, although the discussion does lend itself to prompting (rather than resolving) broader philosophical questions about human nature and our tendency to anthropomorphise (selectively, it must be said). Perhaps more significantly, the book demonstrates that our understanding of animals and their status in the law is both uncertain and evolving.
The authors are teachers and academics, the one specialising in the law of remedies, the other specialising in criminal justice. Their background shows in two ways. The first is the incredible breadth of research that informs the work. While the book is not footnoted, at the back almost 50 pages describes their sources in a way that not only identifies the source but describes it in a manner that enables the reader to consider whether it might be worth tracking down. These include not just primary or secondary legal resources, but a vast array of geographically and historically diverse non-legal material.
The second is the approachable manner in which the book is written. Apart from the absence of footnotes, the authors take the time to explain concepts and terminology for the legally illiterate. They do so, however, in a way that is not overly distracting or patronising for lawyers. Their passion for making the law accessible is palpable. This is thus a book that is engaging for both lawyers and non- lawyers alike.
Guilty Pigs is a thoroughly enjoyable book that will no doubt leave some readers yearning for more, not because the book is in any way deficient, but because its subject matter is so fascinating.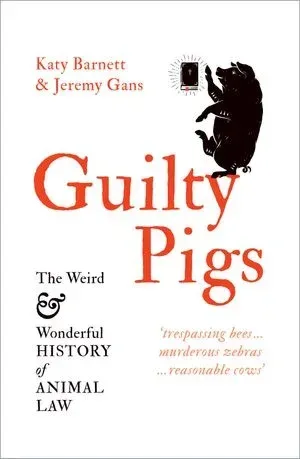 Reviewed by D F Villa SC
I Object!
By Martin Einfeld (Brio Books, 2021)
When I started as a pupil barrister in London many years ago, at 4.00pm every day the clerk would ring each person in chambers to announce in which room tea was served that afternoon. It was a nerve- wracking experience for a young barrister, whose prospects of being kept on by the floor at the end of pupillage depended upon making a good impression. The received wisdom was that a pupil at chambers tea should be like a child in the presence of adults in those times: seen and not heard! It was therefore a listening experience, while the young tenants preened themselves over accounts of recent minor successes. Far more interesting were the war stories of the senior members and especially the senior silks. Martin Einfeld QC is one of those silks with a treasure trove of wonderfully entertaining stories, anecdotes and curios, which he has accumulated over 47 years of practice at the Bar and 33 years as a silk. In I Object!, Einfeld has set out many of these in largely bite-sized pieces that can be devoured quickly and with much pleasure.
There are many fabulous stories here, commencing with the rejection by the chief justice, Sir John Kerr, of Einfeld's admission as a barrister (because he needed to be removed from the roll of solicitors first); through his early days under the supervision of many familiar names and taking up chambers as 'a thorn between the roses' of Ken Handley QC and Keith Mason QC; an appearance in the High Court before Barwick CJ when his leader failed to turn up; a court hearing delayed until after the birth of his baby daughter at 6.15pm and concluding at 11.15pm; and hearings at a duty judge's home in Vaucluse, in Papua New Guinea, in Puerto Rico, on circuit, in the High Court and at the Privy Council in London. Although peppered with the names of the great and the good (and the less great and certainly the less good), Einfeld is not a name dropper. He just has really good stories involving many familiar names across many different areas of law. These include Gough Whitlam, Sir John Kerr, Tom Hughes QC, Ken Handley QC, Kevin Murray QC, Richard Conti QC, Roddy Meagher QC, Clive Evatt QC, David Yeldham QC and Sir Lawrence Street. Even though many readers will not be familiar with all of the names and personalities, they bring to life Einfeld's career and a life at the Bar over the last 50 years.
In spite of the length and breadth of his career, Einfeld is a modest and self-effacing man. For instance, he recounts the occasion when Justice Denys Needham commented that Einfeld's submissions had left him 'none the wiser, Einfeld responded with FE Smith's great line: 'Perhaps none the wiser, my Lord… but much better informed'. The punchline, however, lies in his Honour's response: 'Touché Mr Einfeld, but I have to say that it loses something in the translation, coming from you and not FE Smith!'.
Einfeld is also generous about his clerks, describing them as one of a barrister's greatest assets.
I have had the privilege of being Einfeld's junior on several occasions. It was always an enjoyable experience, but the preparation was always extensive and detailed, verging on the perfectionist. I read then with a wry smile his acknowledgement to his secretary Tracy McLeod having 'typed and retyped (countless times) the manuscript' and his thanks for her 'patience and indulgence'.
In that vein, I enjoyed the juxtaposition between his reference to Dick Conti QC as 'a prodigious worker, arriving in chambers most mornings before the sun rose' and attributing Ken Handley QC with having taught him 'that no case could be over-prepared', and his description of arriving on the morning of a hearing in the chambers of Roddy Meagher QC only to be told by Meagher QC, apparently without any alarm, that he had not been able to find the brief.
I found Sir Lawrence Street's comment to Einfeld, after his many years of mediations and experiencing the burden placed on ordinary people in bringing claims to court, to be tantalising: 'If I had my time as a judge over again, I would have been much more pro-plaintiff.'
As I did the comment of McHugh J to Einfeld, counselling against the common practice of counsel declining to argue weak points on appeal lest they lessen the force of any stronger points on the basis that judges sometimes did 'pick up and run' with those apparently weak points.
I would have liked more comment and conclusion from Einfeld, informed by his long and fascinating career, but perhaps I will have to wait for his autobiography (or at least a chambers tea!). In the meantime, I Object! provides a well of entertaining stories that is important as a written record of life at the Bar over the last 50 years.
Reviewed by Anthony Cheshire SC